Cradle of Filth have been teasing us with their upcoming 12th studio album for the last few months but finally tomorrow Cryptoriana (The Seductiveness of Decay) will be released and boy, are we excited. Their extreme metal discography had lead them to being one of the most notable and influential bands known within the metal world.
Thanks to John from Nuclear Blast Records we got the amazing chance to have as always, a very informative and insightful chat with singer and founder Dani Filth ahead of the album release.
SR: How are you feeling about the album release? Are you happy with the final product and if not what would you have changed?
Cryptoriana is an amalgam of "Crypt" and "Victoriana" so implies Victorian fascination with the macabre and the supernatural.
No, totally happy with the final product. It's just that I haven't listened to it for about three weeks. I kind of over did it. I was doing my press tour in Europe so I thought I'd lay off it for a few weeks. The only track that I've listened to is Achingly Beautiful as that is the next single release.
So I'm very happy with it. We worked very hard on it, it was produced by a good friend of mine who I've used for my other band Devilment, who's also worked on the last two or three COF albums. Basically we didn't go to the pub once- that's how hard we worked on it [laughs]
SR: You say that "This album is going onwards and upwards for the band after the success of Hammer of the Witches". What do you hope for, for the future of Cradle of Filth?
Well obviously I think this is a bit of a renaissance for the band ever since the new line up came into formation. We've got another album with Nuclear Blast after this and we just want to get to a pinnacle with that and move one step closer towards whatever goal we've got. I guess it is just a case of building the band back up after a slight lull. We are about to undertake a massive world tour now we are under new management which is literally taking us everywhere!
Yes, we are coming to Australia in May. I can't give you the dates because our manager is a stickler for synergy so he wants to announce it worldwide at the right time.
Just to move forward and be successful as a band and keep writing great music and play for our fans in all the corners of the world!
SR: You did just say you want to reach a level of success, do you not think you're successful?
Well yeah, I do but I'm really hankering after one of those F-type Jags [laughs]
It's about longevity as well. We've been around for 23 years. We've still got quite a lot of legs on us.
SR: With your previous album you spoke about your open-mindedness when it came to ideas and such from the newer members of your bands to get more of a fans perspective, did this continue throughout Cryptoriana?
Absolutely. Everybody came up with their ideas, songs, bits of songs, structures etc. and we all took like a team-building holiday in the Czech Republic. We went there last summer for a week and a half prior to doing a festival appearance in Slovakia. We went there because it going to work out a lot cheaper and the weather was really great, it was a very atmospheric and inspirational city and basically we collated all of our ideas together and came away with pretty much 80% of the album written because everyone had worked so hard before going there.
That was how I got the idea for the album as I had all the songs laid out in front of me, then we spent the rest of autumn polishing the record off, which got further mutated once we got into the studio. I think it was about 2 weeks into the mix when we decided we weren't happy with the direction of one of the tracks and then we decided to invite one of the older members to lay down vocals on a track. So there was a lot of chopping and changing and mutating through the writing and recording of the album. Which is another reason why we are so happy with it; a lot of work, a lot of changes and a lot of time, blood sweat and tears were put into the record.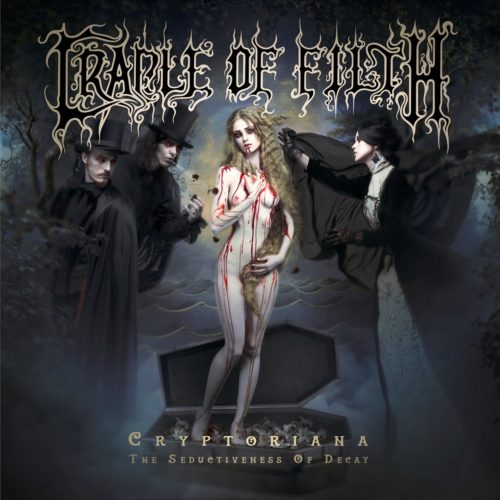 SR: You're releasing a cover of Annihilator's song Alison Hell on special releases of the album, which you've also been quoted to say you've been "meaning to do for a while". In all of your years as a band has there been any other covers that haven't been released?
No, we've even released our version of Cliff Richards Devil Woman. We'd love to undertake a whole album of thrash covers but the reason why we hadn't done it before now was that it is quite technical and then we were just waiting for the right moment.  It felt like the track sat alongside so well with the rest of the album at that point we didn't know was going to appear on the special edition. In fact, the other special edition track is very reminiscent of Cruelty and the Beast and that again would have been put on the crux of the album, but the record company insist there being a wall between so you can get different copies. But I really do recommend for a few extra dollars to get the special edition because it is well worth it.
We actually bumped into Jeff Waters – the guy who wrote the song a few times over the last few years and we'd told him about the interest in doing it and he was like "yeah go for it, cradle will do a great version". He's heard the song since we've recorded it and he's praised it. That's a bit of an accolade on our behalf.
SR: The film clip for the single Heartbreak and Séance is a beautiful piece of videography. Do you feel this represents the underlying meanings behind the album as a visualisation?
Absolutely because the artist for the record who undertook the artwork for Hammer of the Witches he was also the video director. We decided to pool all our budget and we travelled to Latvia and we were just blown away by the enormity and scale- not only with the cast and the crew, but the attention to detail; the scenes and the backdrops, down to the little details of having a stunt crow [laughs] that was standing on this pile of humans and who were all naked and painted white but I was painted black and they made a forest, there was snow… there was just a lot of things going on.
So we were absolutely blown away by the fact that it worked because obviously we coupled the shooting of that with the shooting of band images for the booklet, and the other artwork as well so it all ties really nicely.
There is absolutely no CGI which is great it's normally you just get people just plonked into a warehouse scenario and they added the effects afterward. This is like old school movie making. It very lush. Very reminiscent of the albums about its Victorian but it's set in this neo classical atmosphere. Yeah I think it's great, looks very technicolour.
SR: You were just saying that this album is like a renaissance for the band and the album artwork for the album shows what some could say an appropriation of the famous painting "The Birth of Venus", is that linked at all?
Well yeah I think so. We did give him a free run to do the cover with him and me obviously going backwards and forwards with sketches and ideas and the artwork extends right throughout the booklet as well. Yeah, it's a little bit about rebirth, because the album is about the decay and this has a reverse effect. So she's sort of set out in this theatrical scene where she's coming out of a coffin insured of a clam shell, the sea behind her is evidently sort of theatrical where it looks made rather than real sea and she's being assailed by what can be likened to the three graces but they're more of kin to that Victorian arch enemy as a characterisation- evil counterparts who are reverting her or corrupting this sticker of innocence.
SR: You're known for your extremely distinguished look, do you have a set routine when doing your makeup and where do you get for inspiration from?
strangely enough even though a lot of thought is put in to everything we do, hardly any thought is put into the makeup- we just sort of do it willy nilly.. Not for this video shoot because we had a very strong idea of what we wanted to be representative of. But a lot of the time we talk to makeup women beforehand or we'll literally just turn up and go whatever. And we change it from tour to tour because we get bored and we like fucking around [laughs]
SR: If you could choose one of your songs to name your biography, what would it be and why?
It's not the best title in the world bit id probably settle on Thank God for the Suffering.
Make sure you grab your copy of Cryptoriana (The Seductiveness of Decay) out September 22!
https://www.facebook.com/cradleoffilth/
https://twitter.com/CradleofFilth
https://www.facebook.com/MrFilthOfficial/